Conservatory Range
A Wonderful Way To Extend Your Home
Conservatories have more benefi ts than you might think. They don't just provide lots of extra room – our insulation means your new conservatory will retain heat in the winter, and won't be too hot in the summer, creating a comfortable space for you to enjoy all year round. With a variety of styles to choose from – ranging from contemporary to more classic designs – you're sure to find just the right way to bring the garden into your home…and your home into the garden!
Gone are the days of limited choices when it comes to roof glass. Now, not only have you got an extensive range of coloured tints to choose from but you can now have the option of whether it cleans itself!
Polycarbonate options benefi t from excellent thermal insulation, superb light transmission and is a highly aff ordable option. Made from a double layered sheet system they make your conservatory warm and bright.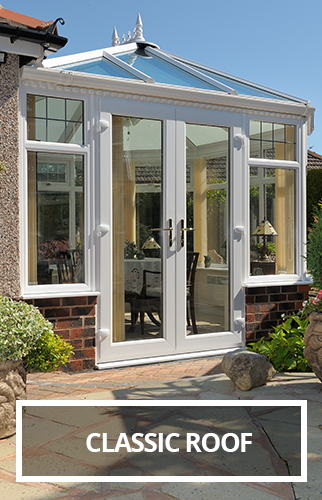 The Classic Roof is one of the most popular conservatory roofing systems. With years of design innovation it is no wonder that it is the product of choice for many customers. The Classic Roof is available in all standard and bespoke designs, such as the Lean To, Edwardian, Victorian and Gable End.
The LivinRoom is a truly multi-functional addition to your living space offering lots more than a traditional conservatory or an extension by providing a pleasant and relaxing space full of natural light. With a perimeter ceiling enhanced with spot lights, you can enjoy your space any time of the day.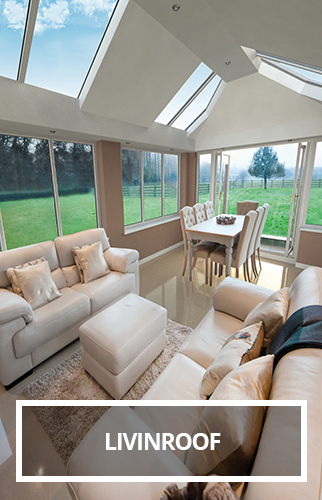 The LivinROOF is a simple solution to a tired existing glazed or polycarbonate roof that is too cold in the winter and too hot in the summer. The fantastic thing about the living roof, is that you can choose how much glazing you want, making it totally unique and personalised to your own taste.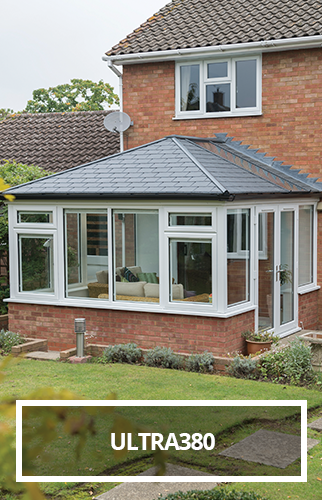 For those who want a solid roof but still want to retain an element of light within the room, the innovative technology in the UltraRoof allows the installation of multiple glass panels or Velux Windows – this can help project light into the adjacent room and give you a truly bespoke design.